Exhibited at IFFT Interior Lifestyle Tokyo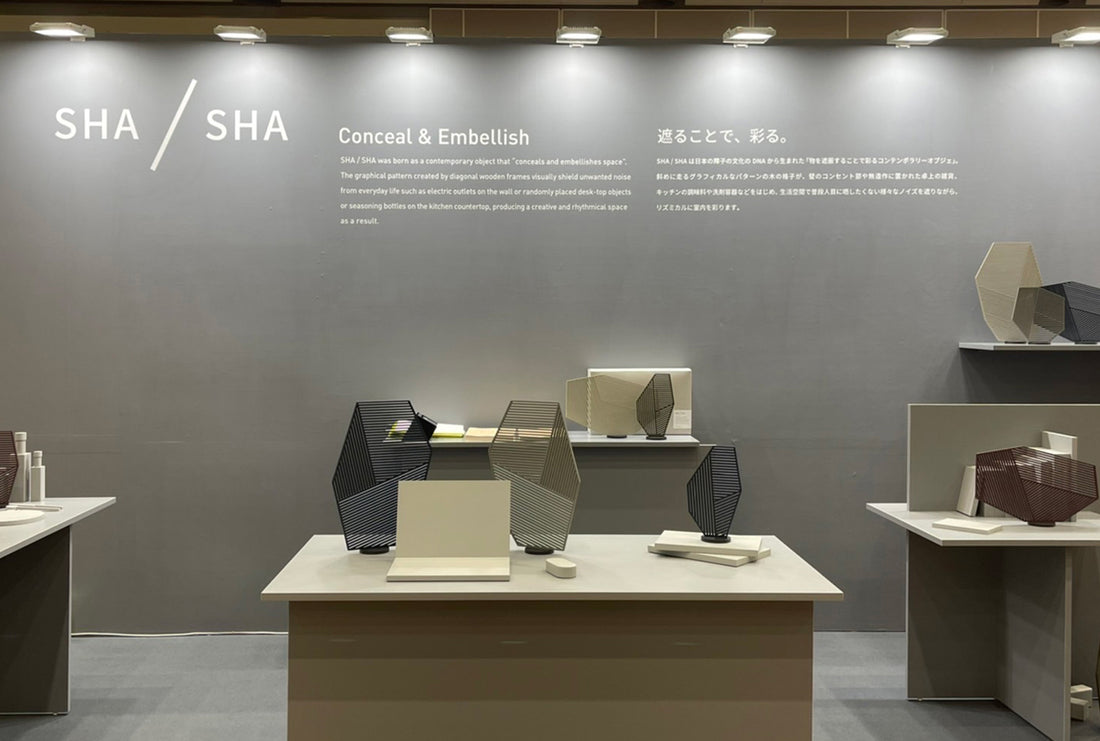 We at Nakai Sangyo launched a new product series, "SHA/SHA," which was unveiled at IFFT Interior Lifestyle Tokyo (Tokyo Big Sight, June 2022).
SHA / SHA is a contemporary wooden object born from an unprecedented concept of "embellishing space by screening out objects", while inheriting the DNA of the fixtures and shoji screens we have been making for years.
In our primary business of manufacturing shoji screens, in order to achieve precision, we carefully select the highest quality of large diameter coniferous trees of 200-300 years old, and use the best lumber that has been naturally dried for approximately 4-6 months and controlled to a moisture content of 12-15%. However, the production process produces a certain amount of scrap wood, and this project was launched in the hope of using this scrap wood of the highest quality instead of wasting it, and to deliver it to the world in a form that would bring the experience and skills of our craftsmen to life.
SHA/SHA was born out of this concept, and it combines the functional characteristics of shoji screens, such as "Partition / Conceal," "Traverse/ Transparency," "Mobility," and "Embellish," to create an object that can conceal things you do not want exposed to the public eye, or partition people and spaces while simultaneously creating embellishment and rhythm in the interior decoration. For example, it can be used to conceal daily necessities that you do not want to expose to the public eye, to create personal space in a remote work environment that has become popular in the Covid pandemic era, or as a tabletop partition in a restaurant or public space...the possibilities are endless depending on your ideas and environment.
At the presentation at IFFT, we received many reviews from visitors, such as "It is nice to screen things loosely," "The layered use is beautiful," "The partition is just right without being overwhelming," and "I can relate to the contradiction-free SDG story". We were able to share the philosophy of this unique product, which you would think it has been made in the past but not, with many people.
This shape itself could be produced by plastic molding or by cutting out with a laser cutter, but SHA/SHA, which is made by joining only thin square timbers with minimal warpage in a highly precise manner, daring not to show the grain of the wood and making it look like a single seamless block, is our answer to the environment and society, created by our skilled craftsmanship and respect for natural timber. We hope that people who share our ideas and beliefs will use SHA/SHA products.
For interior design stores and other interior-related companies that are considering carrying our products, please feel free to contact us for an individual consultation.
Thank you for your continued support of SHA/SHA.